JOHN SIMS, CONCEPTUAL AND MATH ARTIST, WRITER, POLEMICIST, AND HUMANITARIAN, DIES. 1968-2022
By KyleeliseTHT, Friend/Collaborator
December 31, 2022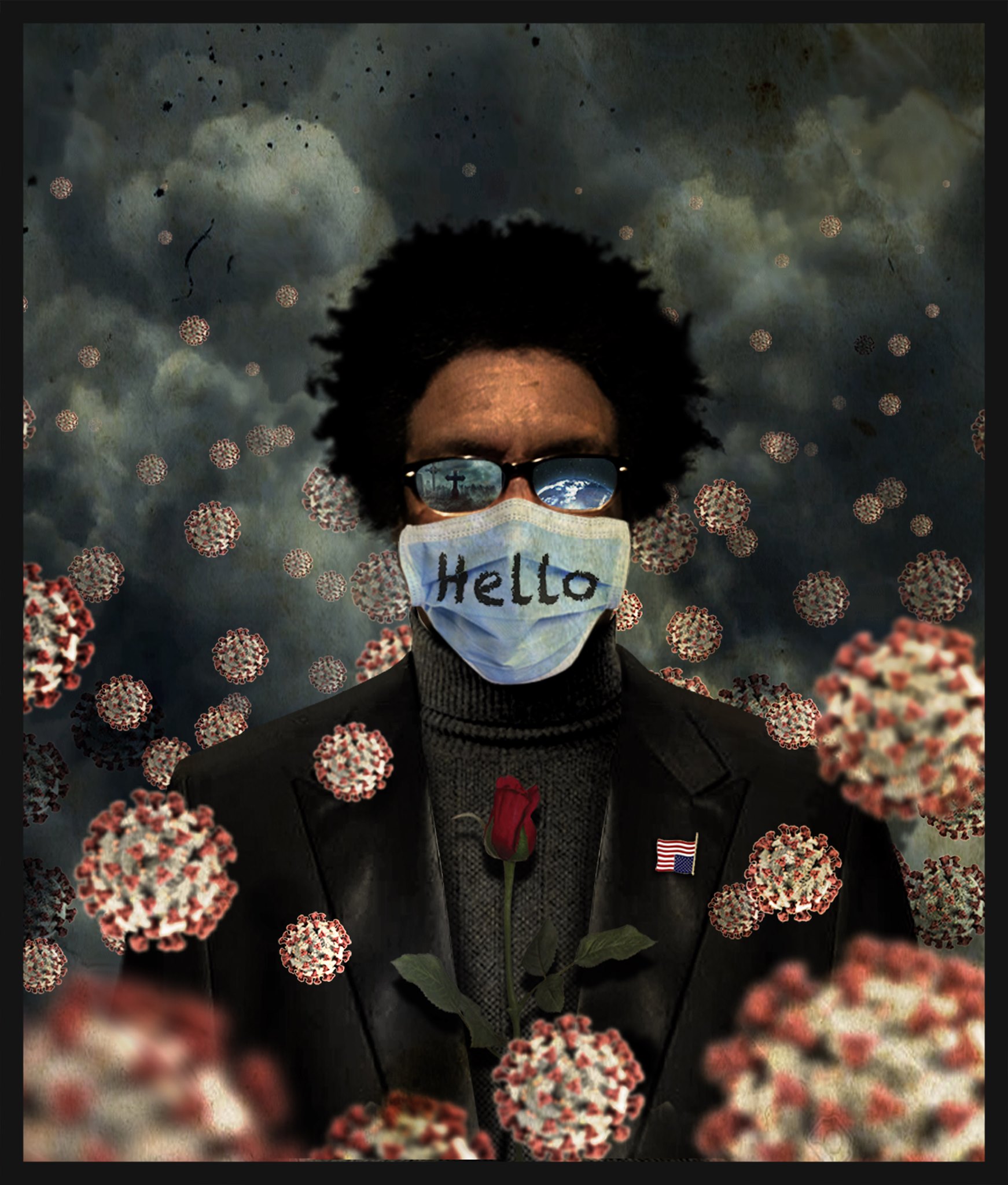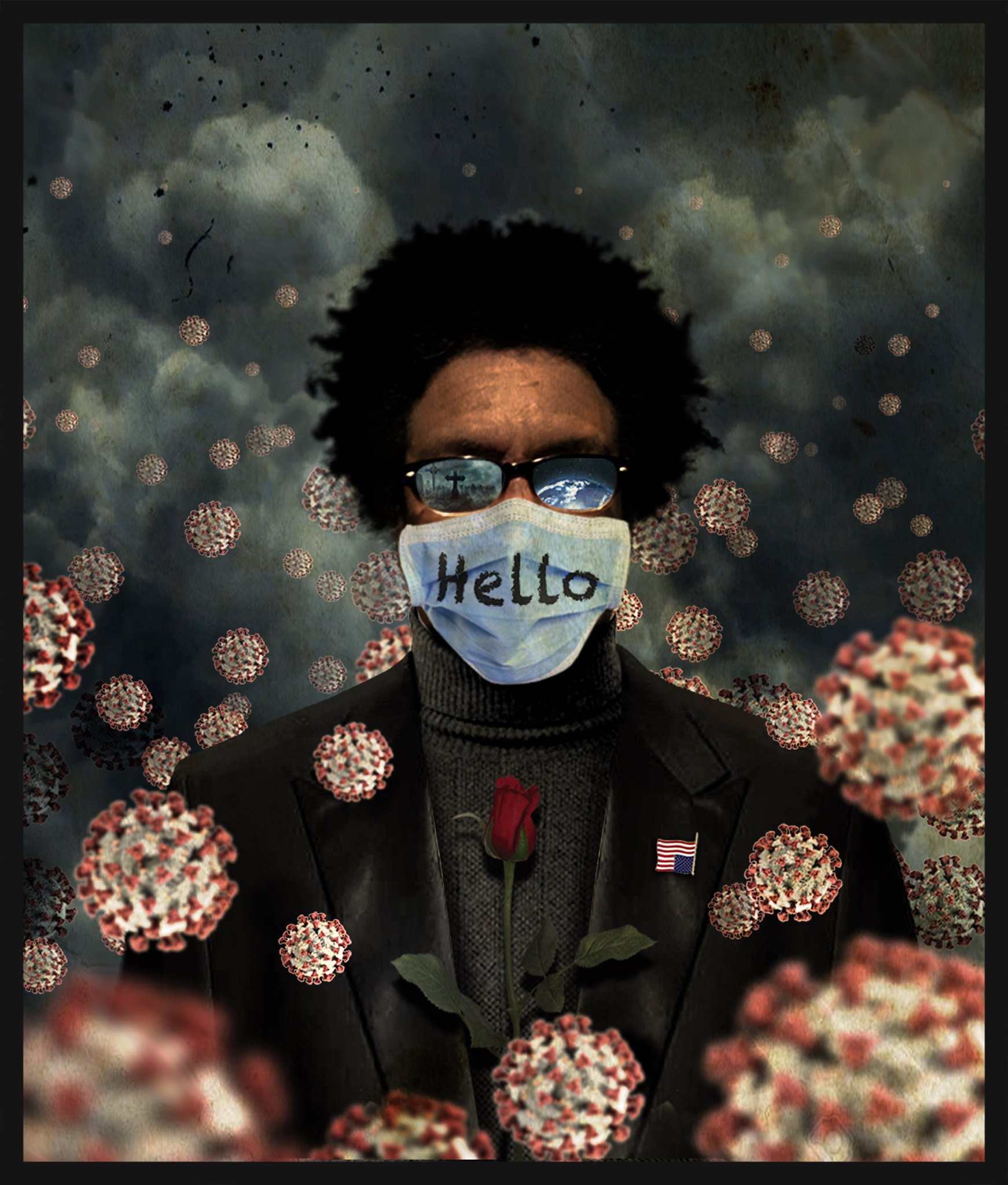 Artist John Sims hung, burned, buried, and remade the Confederate flag for twenty years spanning 2000 to 2020. 
Born John Curtis Sims II in Detroit, Michigan, Mr. Sims was found unresponsive at his longtime Gillespie Park, Sarasota home and studio on December 11.
Mr. Sims was 54.
The artist created a series of Afrocentric, geopolitical, and diversity-affirming emblems to replace conceptually oppressive iconographies as part of his Recoloration Proclamation project.
"My brother was always a provocateur," said Aaron Sims, the artist's brother. "Even when he was young, he would challenge people."
Coincidentally, in a 2021 springtime exchange, I asked Mr. Sims whether he considered himself a provocateur or radical.
701 Center for Contemporary Art, Columbia, SC. -photo provided by John Sims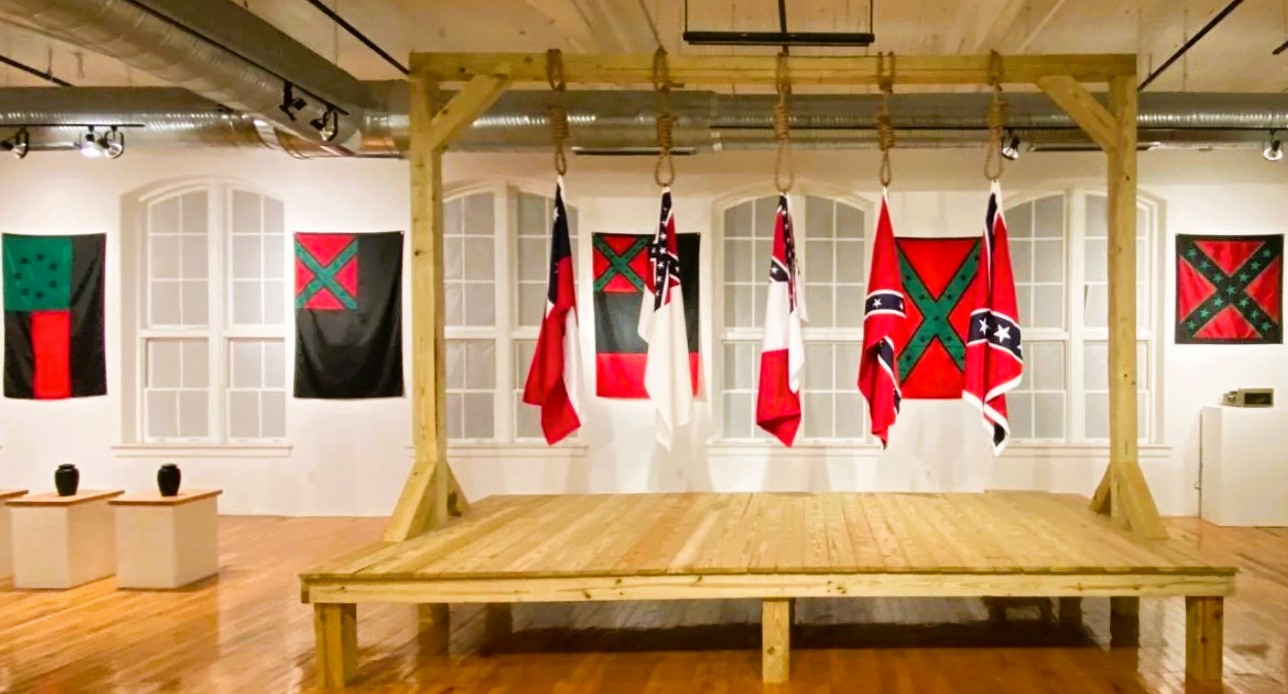 Photo from Mr. Sims Webpage/background graphics by KyleeliseTHT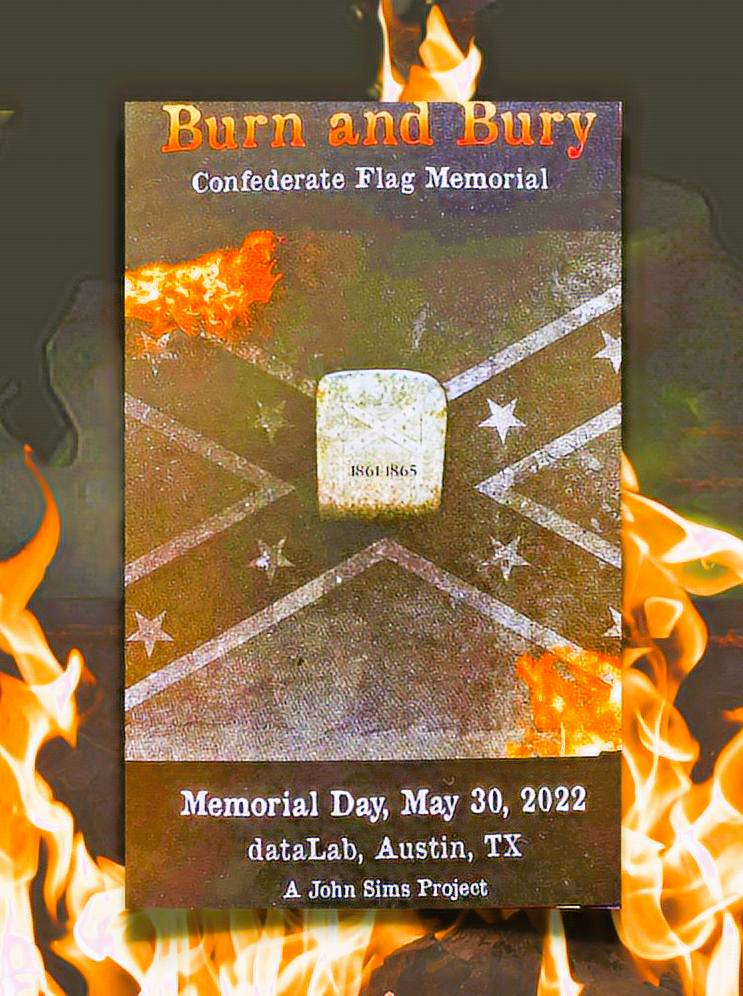 "Maybe. Hanging the Confederate Flag in Gettysburg in 2004 was certainly radical. Perhaps this is why I got serious death threat(s) or why the KKK issued a press release calling me a racist," Mr. Sims messaged. "...I think my flag work has been quite daring…up until now, many museums have thought my work to be too radical to show," he added.
On May 17, 2021, around 2 a.m., the artist was aggressively apprehended, handcuffed, and detained for inexplicable reasons in Columbia, South Carolina. Mr. Sims was relaxing in a top-floor flat above the gallery where his work was displayed. He was there as a guest of the gallery's owners.
As Mr. Sims told the Grio after the incident: 
"On the eve of the anniversary of the death of George Floyd, this incident affirms to me in the most real way that American policing, profiling, and the persistent fear of death when Black folks face the police, in the streets, their cars or their art space or in their beds, are the enabling elements that promote white supremacy and Black subjugation,"
The esteemed alum of Antioch College in Ohio, Mr. Sims '90, "created and organized the Cross-Cultural Field Program and African-American Culture Week, which later became the long-running AACW Blues and Gospel Fest," according to the college's profile of the artist. He was a proud 1986 graduate of Detroit's Renaissance High.
Mr. Sims relocated in 1997 to Sarasota from Middletown, Ct., where he'd been a doctoral student at Wesleyan University.  In Sarasota, he worked as the math coordinator at Ringling College of Art & Design. There he created a visual mathematics curriculum while working on his creative practice. Mr. Sims left and pursued art full-time in 2005.
Artist Gale Fulton-Ross met Mr. Sims the day he arrived in Sarasota. The two had a special bond, with the younger creative referring to the senior artist as his "art Mom."
(Photo from Mr. Sims'Facebook page.)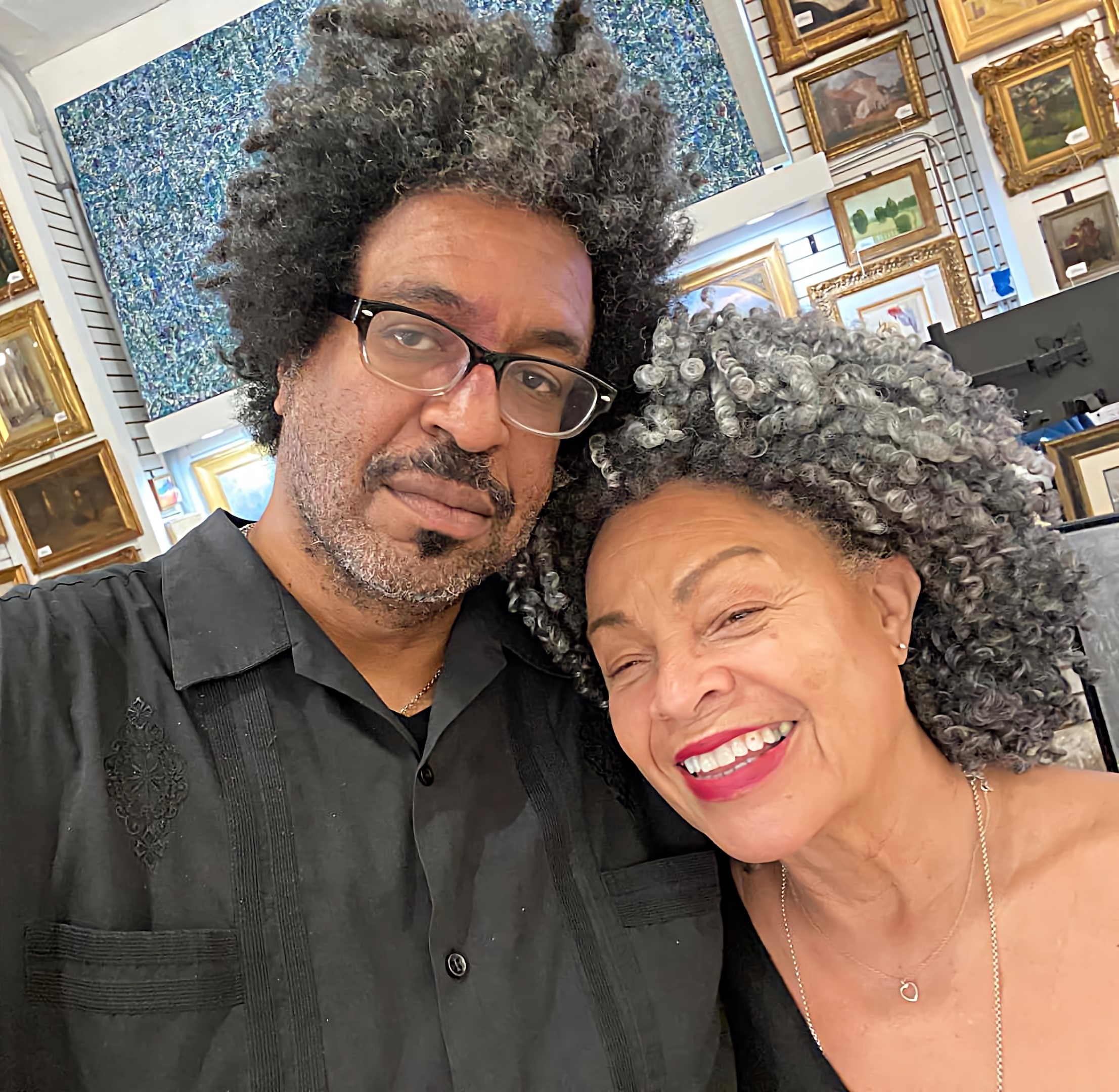 "He was a Super Hero!" Ms. Fulton-Ross wrote in an email. "I told him over and over again that Art was Long, and Life was short. My beloved Art Son felt that urgency and used his time profoundly."
Primarily a Conceptual, MathArt, and sculptural artist, Mr. Sims dedicated much of his practice to cross-cultural peacemaking, creating art reflective of the universal nature of mathematical truth.
"John believed in the importance of Time and the sequential power in all the mathematical equations required to bring a global acknowledgment that all life has a beginning and ending," Ms. Fulton-Ross declared. 
To mark the dawn of the 21st century, Mr. Sims fashioned wood, metal, gears, and other working parts into installation timepieces collectively called the TimeSculpturePoem - "a collection of twenty-three objects: vases, chess sets, clocks, and chairs that tell a story about space, conflict, time and relationships," Although not fully realized, leading up to the year 2000, while showing a working model constructed in the materials he planned to use to build the full-size timepieces, Mr. Sims told me that the project he'd intended would be anchored in New York City and extended to other American municipalities, and communicate via satellite.
In 2005, Mr. Sims collaborated with a Sarasota Amish quilting group of women to create quilts based on Pi and the Pythagorean theorem as part of his SquareRoots: A Quilted Manifesto series.
(The Exploratorium, San Francisco - photo from Mr. Sims' Facebook page (cropped).)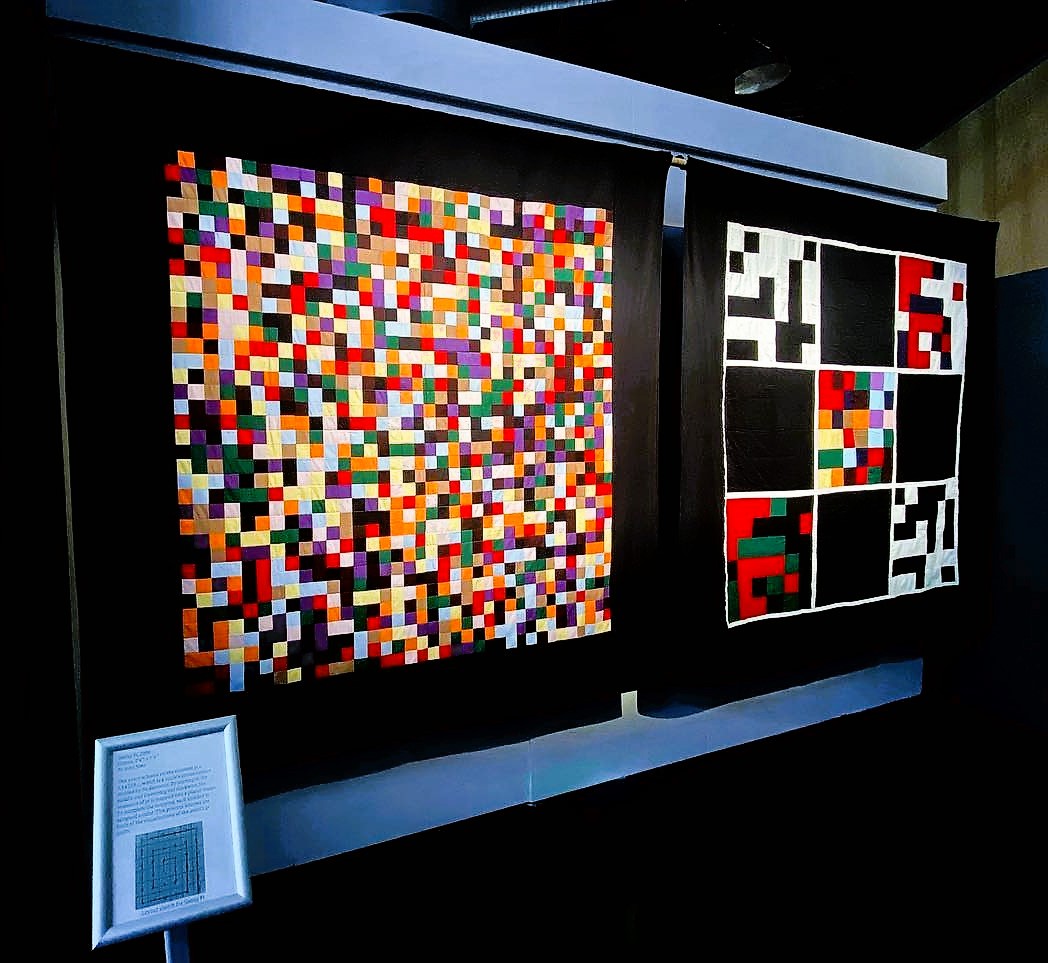 Exhibited at State College of Florida in 2015, Mr. Sims' 'Quilted Manifesto' series draws on the idea that the sum of us, squares, equals the side abutting at the right angle. For Mr. Sims, equality and sameness as a mathematical reality dispel any rationale for divisiveness - "form meets spirit and truth meets meaning within this reality," he wrote.
Vickie Oldham, President/CEO of the Sarasota African American Cultural Coalition, agrees, "John Sims' outreach to people was so wide, broad, deep, and multi-dimensional. He created a large family circle. We're different but alike."
Five dresses designed by Mr. Sims with Pi as its integral design element focus on "issues around the body, race and combinatorial diversity." The late piano virtuoso Kenny Drew Jr. recorded a 15-bar composition in the key of Pi. And Mr. Sims himself collaborated vocally with mathematician Vi Hart on his Pi Day Anthem.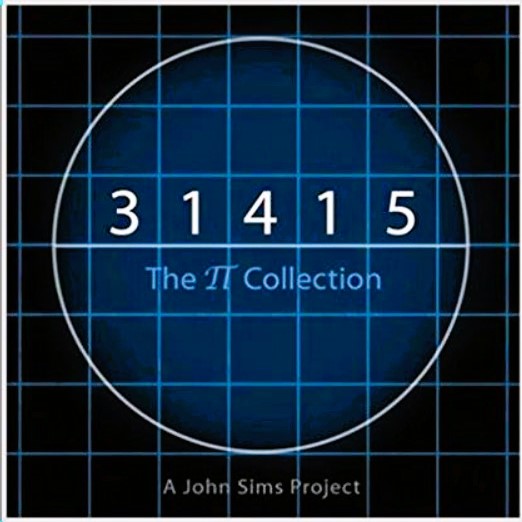 In 2015, Mr. Sims produced his CD, 31415: The 𝝥 Collection.
A prolific writer, Mr. Sims self-published a library of augmenting texts to his works in other media - Rhythm of Structure: Mathematics, Art and Poetic Reflection - Bowery and Beyond (2011); SquareRoots: A Quilted Manifesto (2015), and Ablazing Grace (2018), the chapbook and video poem, along with the AfroDixieRemixes were featured in 2019 on Live! From City Lights. He also guest-edited 'Rythm of Structure: MathArt in the African Diaspora (2004) for The International Review of African American Art.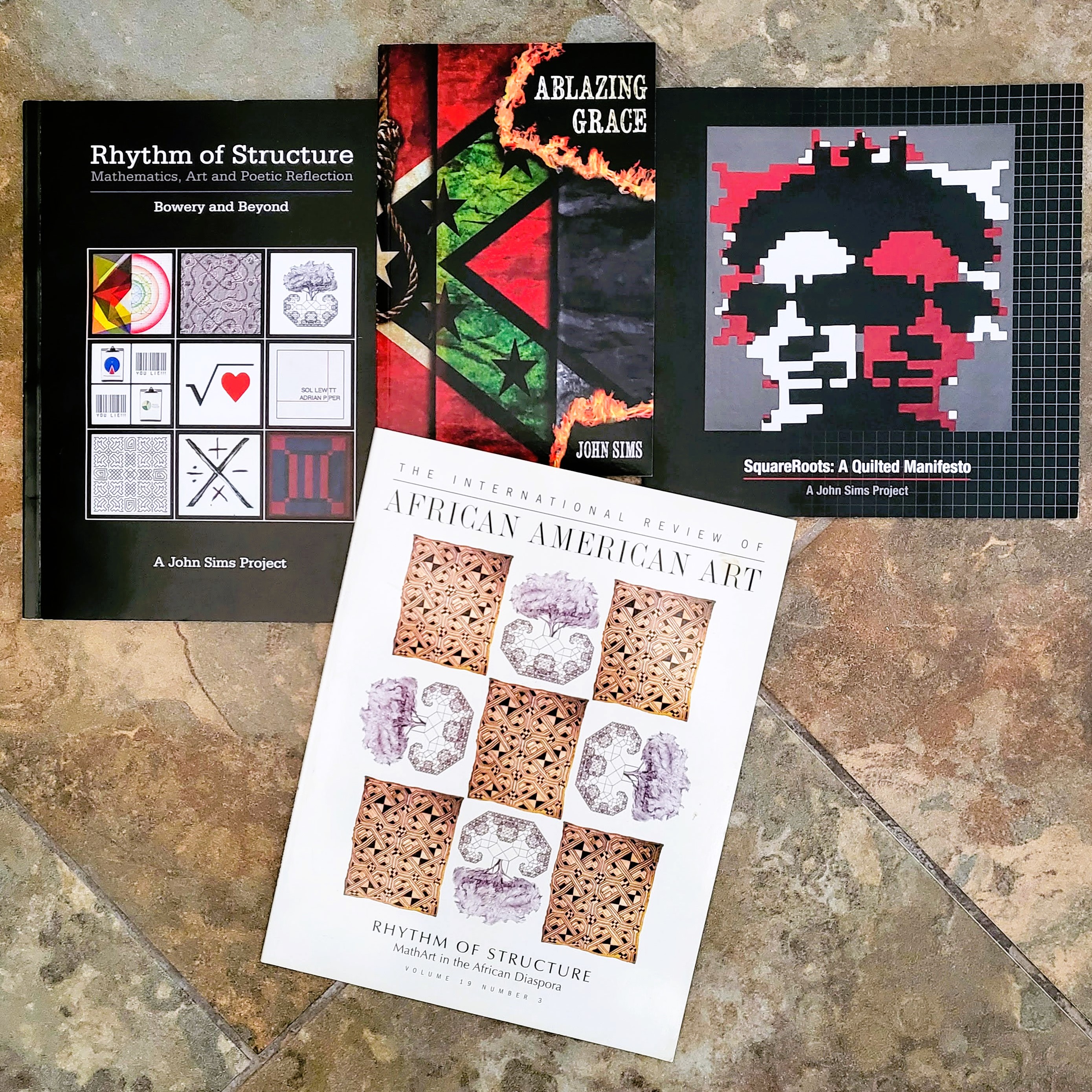 Mr. Sims' relationship with Sarasota's art institutions was tenuous and hard-fought. Except for his 2008 residency at the Hermitage Artist Retreat in Englewood, Fla., in south Sarasota County, and an exhibition at State College of Florida/Bradenton, Mr. Sims had traveled his works across the country and abroad with scant notice in his adopted hometown until late 2019. 
When The John and Mable Ringling Museum of Art offered him a residency in the shadow of Black Lives Matter, organized outrage against police brutality of persons of color, and Covid-19, Mr. Sims told me his inclusion was "necessary" and "gratuitously timed." Still, he was elated to present his work at an institution that might not have welcomed it had there not been a national call for change and inclusion at the time.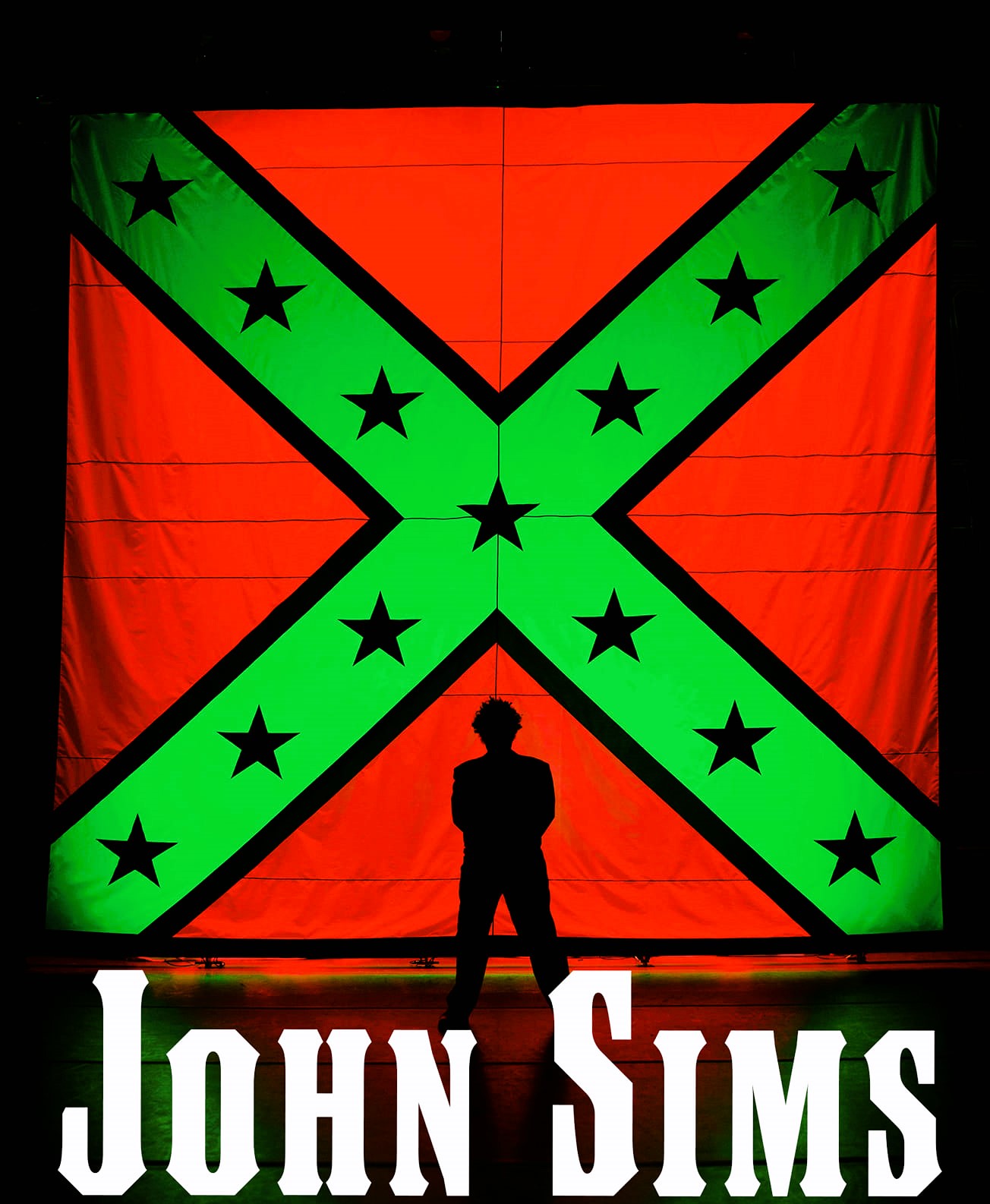 Stylized image provided by Mr. Sims. Photo by Gavin Bacon. 
Having made inroads in the Sarasota arts scene, Mr. Sims lamented that the local newspaper of record seemed to shy away from covering his most meaningful social justice work when the more northern Tampa Tribune kept its readers abreast.
"I cannot believe Sarasota Herald [Tribune] did not cover my shows at Ringling," Mr. Sims wrote to me in February 2021. "[Surprised] because they love to talk about me and what I am doing but apparently not the work directly," he elaborated.
Long before Mr. Sims's work found an opportunity in Sarasota, several other venues provided him a platform, like the Bowery Poetry Club and the Wilmer Jennings Gallery, Kenkeleba House in New York, Antioch College, Wayne State Univ., Univ. of Ljubljana, N'Namdi Center for Contemporary Art, Rollins College, and Ohio University. In addition to the John & Mabel Ringling Museum, Mr. Sims was a resident artist at La Mama, the Hermitage, The Exploratorium, and the Houston Museum of African American Culture.
Mr. Sims co-curated with Omo Misha, Aretha SuperNatural: Tribute to the Queen at the Irwin House Global Art Center & Gallery in his native Detroit in 2018. 
"John was his own biggest cheerleader," said Irwin Gallery director Misha McGlown. "But with the same grit and enthusiasm, he championed not only our work here in Detroit and at the gallery but, I believe, the work of all his creative friends and allies."
In November 2019, Mr. Sims became the inaugural Irwin House artist-in-residence and was instrumental in helping secure the center's first grant, which funded its 2022 programming.
"He saw and supported our vision, stood behind its realization, and made sure we were able to sustain the work we are doing, " said Ms. McGlown. "He demanded excellence of himself, of us, and we are honored to help move his projects and vision forward here in his native Detroit. We owe him that," Ms. McGlown said.
While in Detroit, the native Detroiter began work on his profoundly personal lament on the deteriorating conditions of his childhood neighborhood: 'Sorrento: Portrait of a Detroit Block.' (Photo from Mr. Sims' Facebook page.)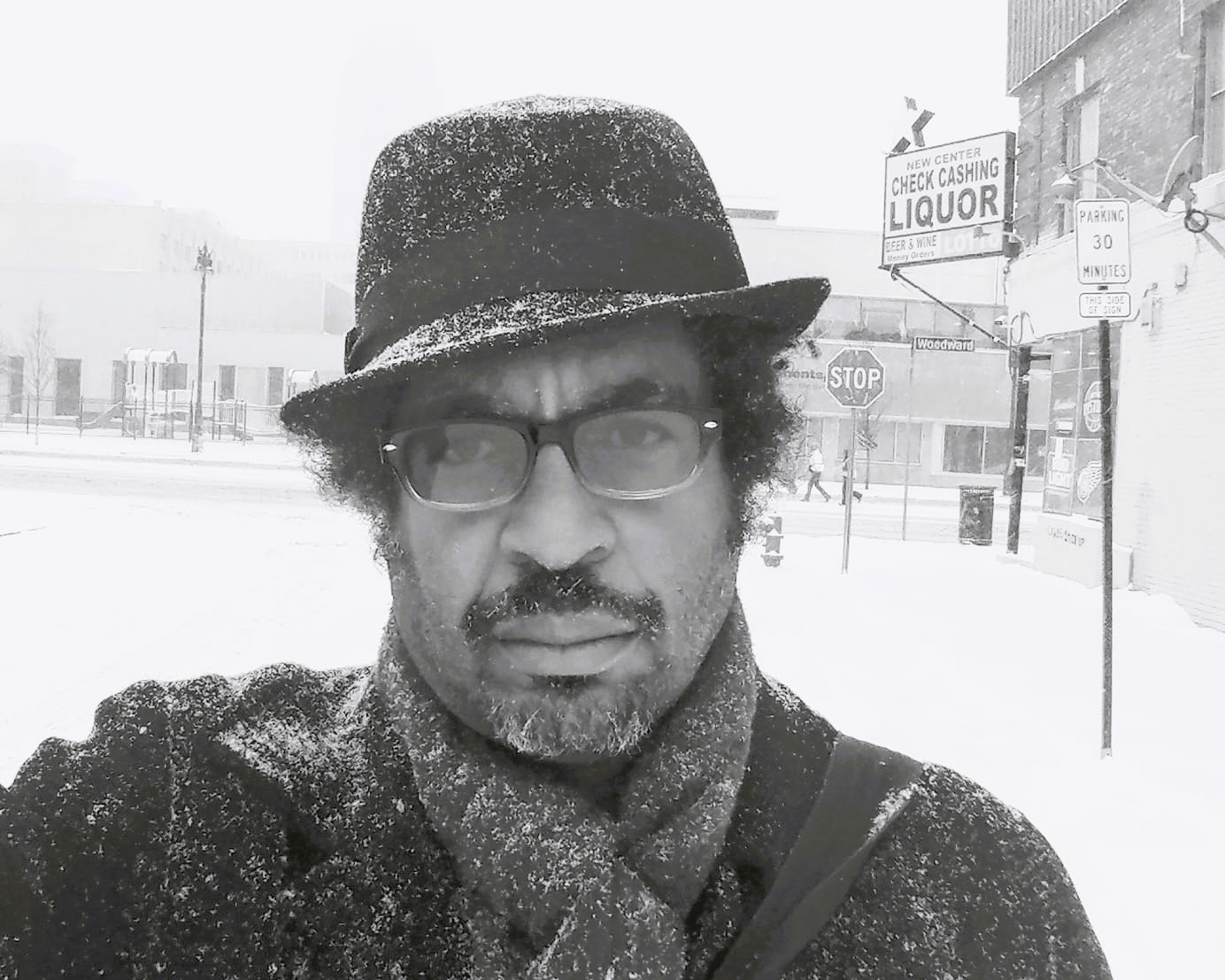 Angela Sims Shackleford said this about her older brother, "My brother John was an original from the day he was born. He was an innovator, a creator, and a visionary. And we all can see his light shine through his artwork, which is his creativity that will last well beyond our lifetime."
He wrote several op-eds for state and national news outlets, such as the Detroit Metro Times, The Grio, the Huffington Post, Athens News, Aljazeera, The Rumpus, and the Sarasota Herald Tribune. His work is documented extensively in scholarly reviews, books, and countless news stories and interviews. Mr. Sims was featured in 2020 on Yaddo - 'Math as Language.'

Mr. Sims is featured, among other publications, in Eva Torrino's essay 'Performance, Political Discourse, and the Problematics of the Confederate Flag in Contemporary Art' (2019). The artist's essay 'The Art of Pi' appears in Stephen Ornes' Math Art: Truth, Beauty, and Equations' (2019), and his discussion with poet and essayist Kristin Prevallet for The Brooklyn Rail was published in 2021. (Mr. Sims provided the graphic below.)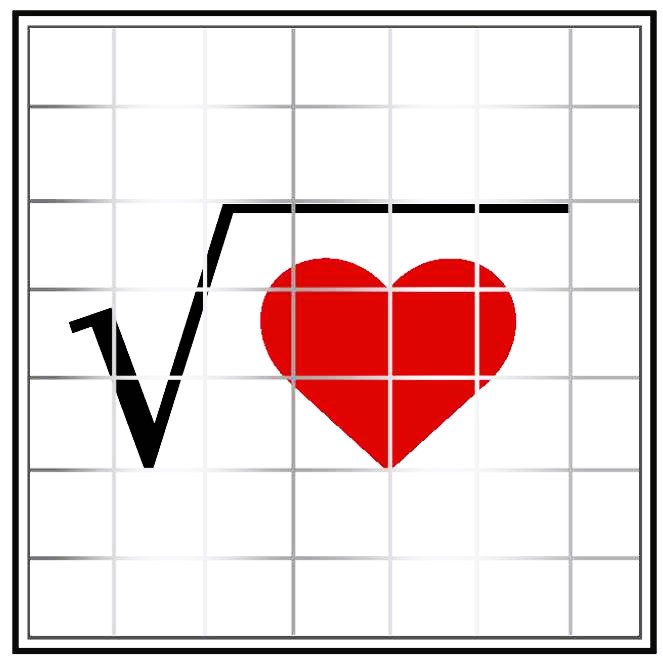 "I have known a lot of creative people in my long life, but John Sims stands alone in the multi-dimensional way he approached what he called 'the circles of unity that connect both halves of our brains, our different cultures, our complex communities, our nation, and our planet,'" reflected Charlayne Hunter-Gault, the renowned journalist, author, and friend of the artist.
"He dared to use the confederate flag as the symbol of the hatred and separation, and burned it to the ground in his work," wrote multimedia artist and singer Suesan Stovall on Mr. Sims' Facebook death announcement.

In March 2022, as artist-in-residence, Mr. Sims' Seeing Pi' Civil Pi had a month-long exhibition at The Exploratorium Osher Gallery in San Francisco. At Skidmore College's Tang Teaching Museum, the artist's The Hanging of Knots Up to 8 Crossings was exhibited as part of the Radical Fiber: Threads Connecting Art and Science exhibition.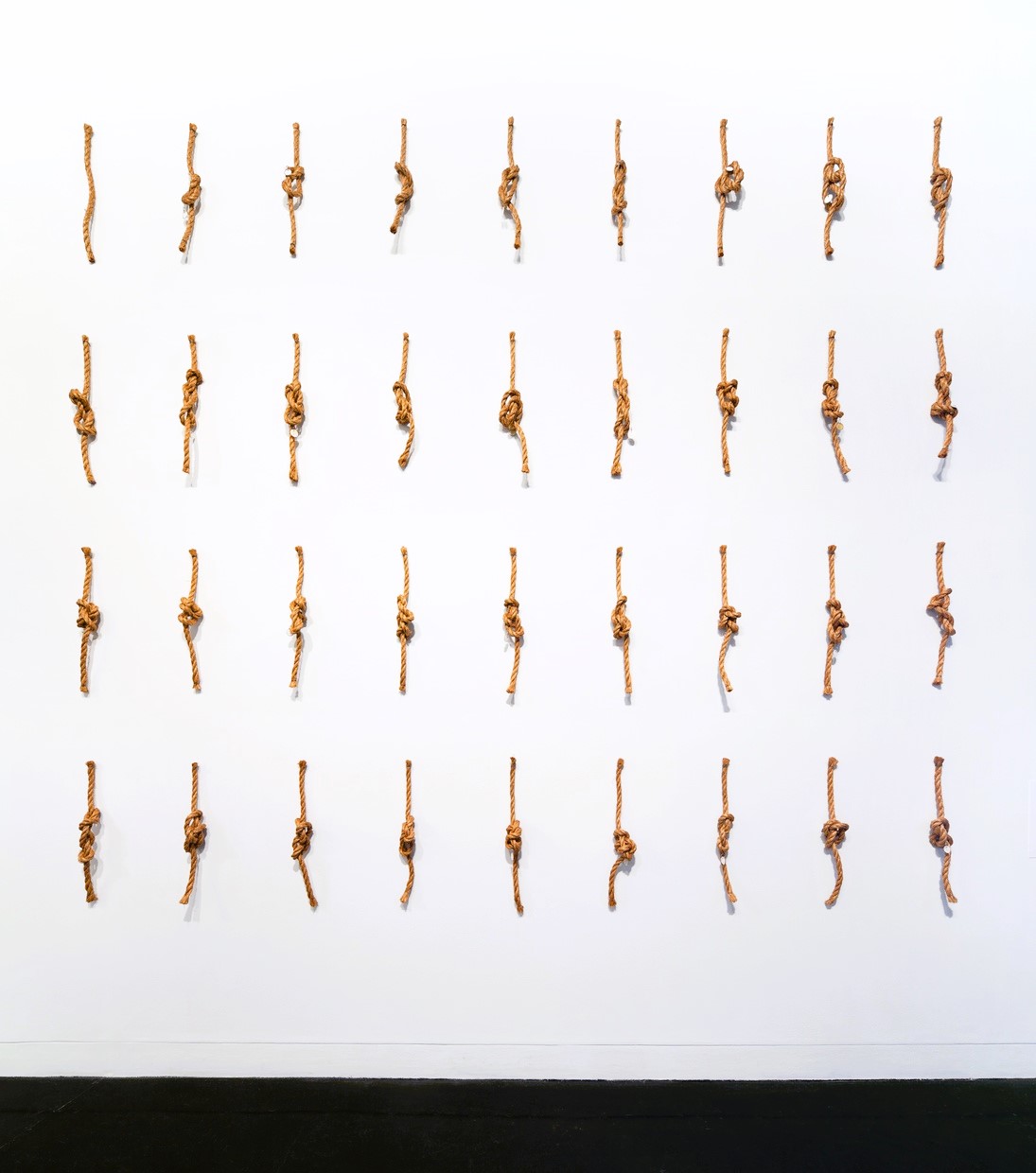 Mr. Sims' last major work is fashioned from a towering metal scrap he scoured from the wreckage of the former Sarasota studio of sculptor John Chamberlain (1927-2011). (Mr. Sims with his sculpture, From the Chambers. Photo by KyleeliseTHT)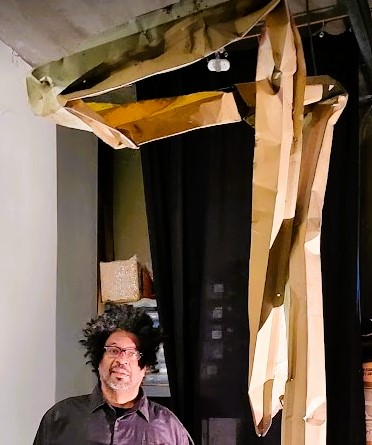 The artist's near-biblical reflection of his final salvo, From the Chambers: A Memorial to a Creative Space, was published online by Sculpture magazine (September 19, 2022), along with Mr. Sim's four-minute, eleven-second video poem, Lost Chambers: A Tribute to John Chamberlain's Studio.
Though Mr. Sims reminded me when I interviewed him in Sept. 2022 about his Chamberlian piece, that sculpture was his first love, having fashioned chess pieces and other three-dimensional objects early in his career and throughout, likewise, his MathArt remained a sustained part of his practice.
"Mexico," the artist told me when we last spoke. That's where his MathArt would lead him next, he explained shortly before his passing. Mr. Sims had connected with a Yale professor, which evolved into talks that included a Mexican official around his traveling to Mexico, where he'd work with the Atec vigesimal system of numbers. 
Honestly, the details of his proposed work in Mexico, as he explained it, confounded me. The memorable part, however, is that he'd made a connection with the Atec number system that somehow could inform his belief that math is essential as a humanitarian construct.
In 2021, Mr. Sims' solo exhibition, AfroDixia: A Righteous Confiscation, was on view at the 701 Center for Contemporary Art in Columbia, SC.
Michaela Pilar Brown, gallery owner and past director of the 701 at the time of Mr. Sims' exhibition, remarked on the reciprocally empowering relationship she shared with Mr. Sims during their decade-long friendship. "John and I were each other's creative and social conscious. … we collaborated to produce work that challenged accepted histories, challenged each other's creative output, and demanded we meet the moment," Ms. Brown wrote in an email.
Smaller associated events were held at the Houston Museum of African American Culture, the Virginia Museum of Fine Art, the Tampa Museum of Art, and the USF Contemporary Museum of Art, which hosted Mr. Sims Making Monuments, in which he rededicated Gamble Plantation Historic State Park in Ellenton, Florida, in memory of those enslaved on those grounds.
Mr. Sims commissioned the second pressing of his 2015 record album, The AfroDixie Remixes, in late 2020, with new liner notes from cultural critic and musician Greg Tate, for planned listening parties across venues.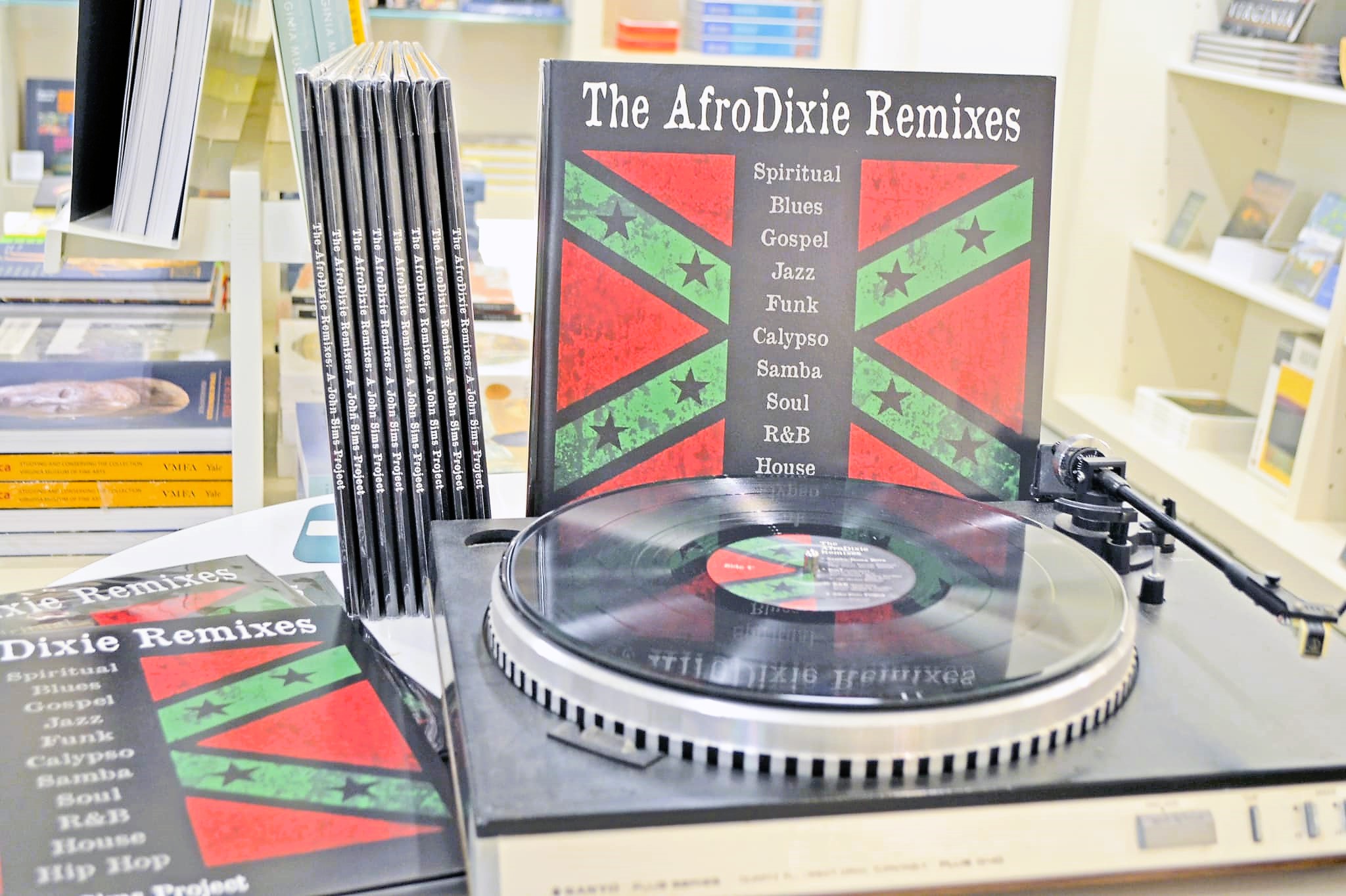 Photo from Mr. Sims' Facebook page.
For some, it might be difficult to grasp the seriousness of a bespectacled guy with an imposing figure, topped by thick, rebellious locs, and hearing his booming voice. However, Mr. Sims' was a tactician - an intellectual and astute guardian of his intellectual and art properties.
When the artist faced a crossroads negotiating with an institution's representative over the ownership of his The AfroDixie Remixes masters in a deal that could have traded it away, Mr. Sims, unmatched financially, bet on his limited resources to strike an uncompromising deal.
"If I can't advocate for my own work, how can I be a social-justice advocate?" Mr. Sims said about the day he had to decide whether he was an artist or a "sharecropper" as he interpreted the unthinkable surrender.
Dismissive of the notion, Mr. Sims typed the numbers on his strained credit card in a record presser's checkout. He was "still a free man" because of his split-second action.
"If I can't advocate for my own sense of justice in these hard times, what am I in these streets for?" he said, having spent nearly all he had to protect the ownership of his The AfroDixie masters.
Mr. Sims is predeceased by his mother, Joyce Cartwright Sims, and father, John Curtis Sims, Sr. He will be missed by family, friends, and loved ones.
A celebration of John Sims' extraordinary, purpose-filled life was held at the Irwin House Global Art Center & Gallery.
John's cremains is held at the historically designated oldest African-American-owned cemetery in Michigan, Detroit Memorial Park Cemetery East, 4280 E. Thirteen Mile Rd, Warren, MI 48092.
In lieu of flowers, please consider donating to these organizations that John supported:
Halo Arts Project – Angels for Artists
Telephone: (941) 328-8052
Telephone: (313) 932-7690
Remember Artist John Sims @ John Sims Projects - and be inspired.