John Sims Received His Flowers. What's Next?
By Writer KyleeliseTHT - A John Sims collaborator, editor, friend, and the artist's archivist
February 14, 2023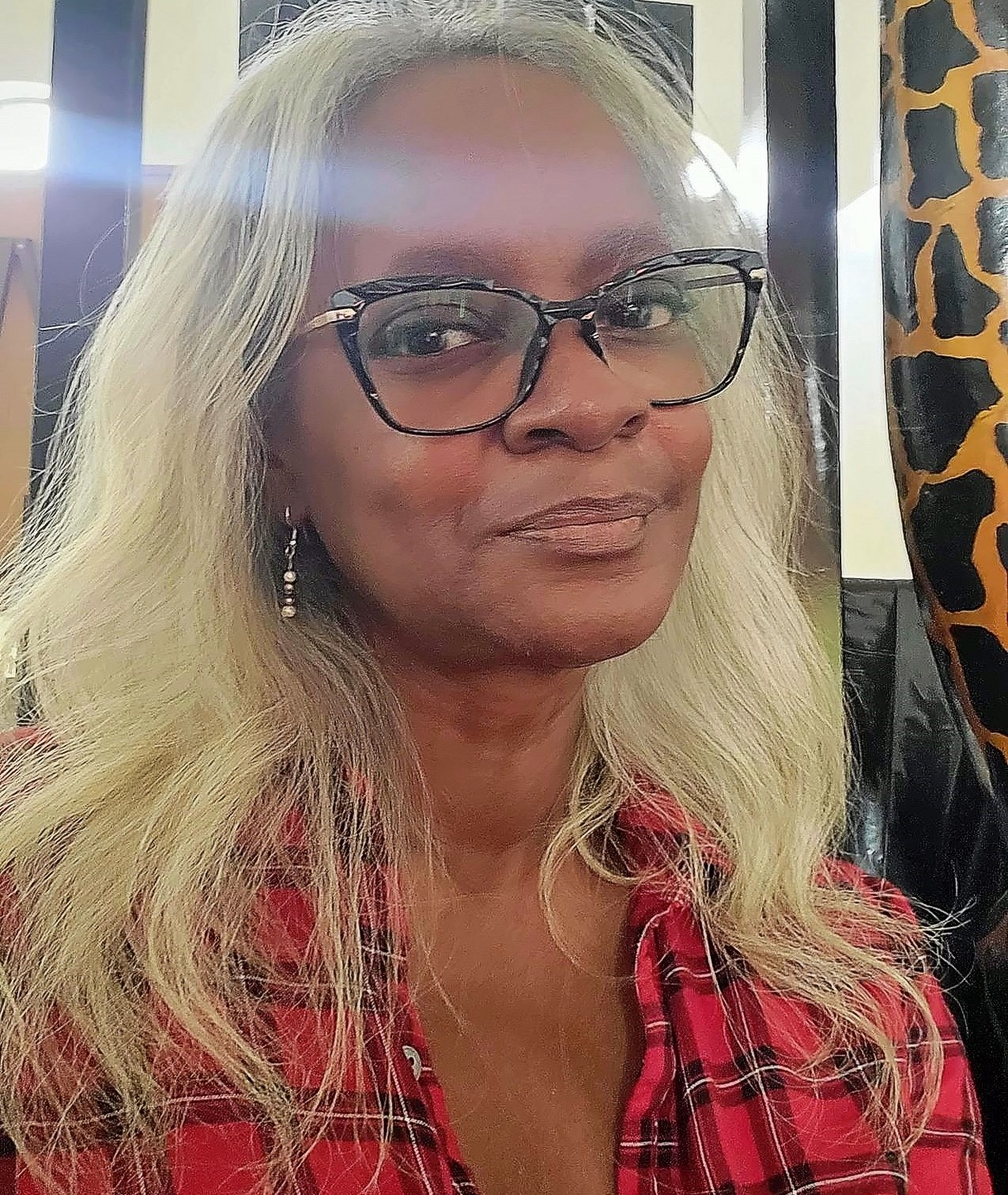 On February 13, I attended a wonderful celebration of Artist John Sims. The John and Mable Ringling Museum of Art hosted the event at the Historic Asolo Theatre on what would have been John's fifty-fifth birthday. The cultural entities are located in Sarasota, Fla., and are extensions of Florida State University.
     I was delighted to listen as poet Bob Holman riffed about John, his life, and artistry until he lamented his death. Holman founded and is the executive director of the Bowery Poetry Club in New York City. John loved that space. And I love it, too, because of him.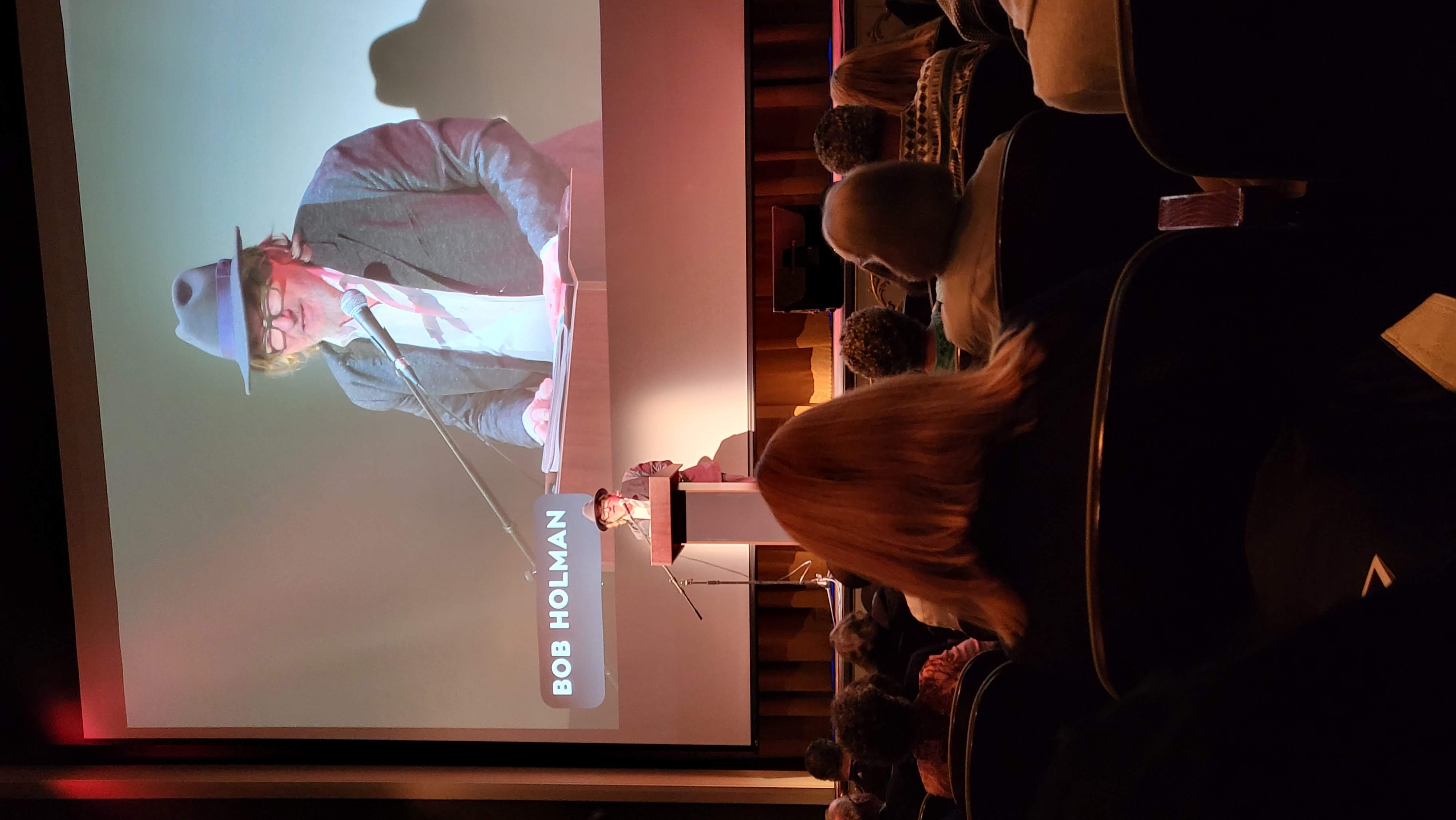 John forwarded and cc'd me for more than twenty years so I could keep a record of what he'd been doing. "Check your email," he often emailed or called about an email I had received from him just moments before. 
     Nostalgia so overwhelmed me while listening to Holman that I did just that when I returned home after the celebration. I checked my email. Search - "Bowery." There are a bunch, but this one is a real biggie! August 2009. John's organizing his Rhthym of Structure: Mathematics, Art and Poetics Reflection.
Hello Folks,

I am organizing a series of exhibitions at the Bowery Poetry Club called Rhthym of Structure: Mathematics, Art and Poetics Reflection. The exhibitions explore visual language of mathematical ideas and process as it relates to a spectrum of themes from geometric landscapes to the socio-political…The exhibition series opens this September and runs until August 2010. Featured Artists included in the duets shows: Sol LeWitt/Adrian Piper, Karen Finley/John Sims, Paul D. Miller (aka DJ Spooky)/Dread Scott, John Hiigli/Vandorn Hinnant, and Paulus Gerdes/Ken Hiratsuka.
I scrolled up to a 2011 email. Rhythm of Structure has evolved, and John is bringing it to the Sunshine state. 
Dear Rhythm of Structure Folks, 

Here is a quick video of images from the summary exhibition of Rhythm of Structure, first done at the Bowery Poetry Club as a series of nine series shoes, now comes together at Selby Gallery, Ringling College of Art and Design…
     'Watching' John, via more forwarded emails and calls, put together Rhthym of Structure in New York from Florida back in 2009 and remembering his mound of backstories, Dread Scott's name on the list is piercing. Scott's work - nope, look him up - is the genesis of John's flag work.
     Another 2011 email links me to John's Rhythm of Structure Catalogue - A John Sims Project.
     All my dialing back and forth from John's Bowery days to watching Bob Holman, the enigma wrapped in John's gratitude, expressed abundantly and for years, standing right in front of me but in John's absence set me flowing like waves and crashing as they do to signal an unleashed storm.
     The Ringling celebration included clips of an interview with John and his video work. Listening to the track of his SquareRoot videos, my mind dances back to 2012 and an email with the mp3 music files. How many times have I heard those songs?
     When the barefoot singer, Twinkle Yochim, came on stage and fronted John's massive red-black and green, his "remixed" Confederate Flag, my spirit was utterly dragged just like those waves pulled back out to sea. I knew what was coming. 
      I was in John's show in 2012. Twinkle was, too. So, I'd heard her sing before. But her performance at John's life celebration at Ringling was a next-level moment for me.
       John gave me The AfroDixie Remixes CD and the mp3 files in 2015. And he read me Greg Tate's liner notes on the jacket of the 2021 album version. But I had yet to witness a live performance of one of John's AfroDixie Remixes. Twinkle brought it home! He always said that hers was his favorite. 'Dixie, look away; look away.'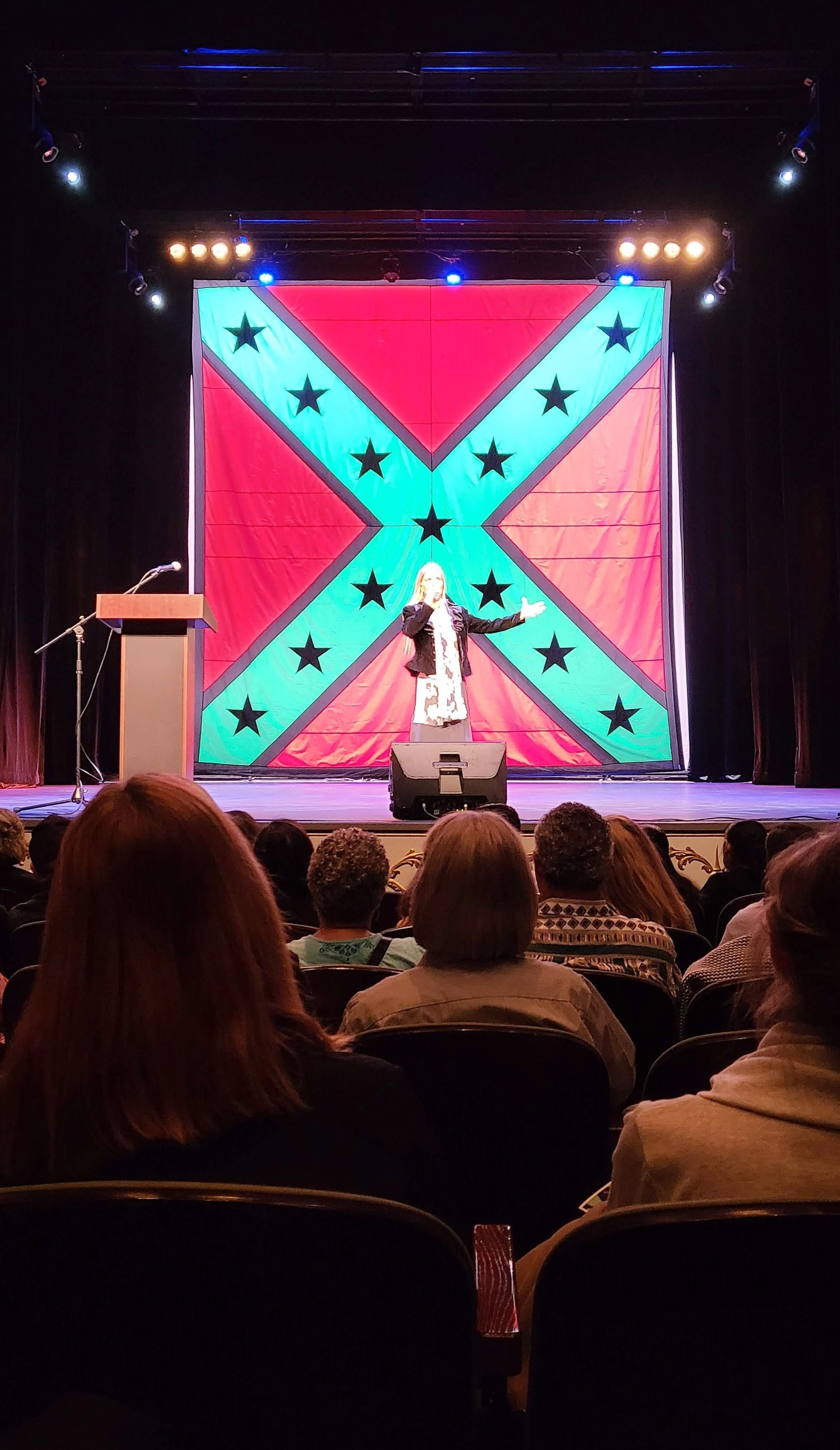 After the celebration, amid the greetings between old friends and meeting beautiful new faces, I had a brief but sobering encounter. It felt like I'd been dragged ashore and shaken out of my haze to be clear enough to meet Diane Wallman, University of South Florida associate professor and archaeologist at Gamble Plantation Historic State Park.
       I have thought about John's contribution to this effort every day since he cut us all loose for that great Pi of reconciliation.
      John Sims was a conceptual and mathart artist - emphasis on 'conceptual.' His body of work is a quilt of concepts, visuals, auditory experiences, and words he used to exemplify possibilities within his world of finite and infinite realities. One such possibility John gifted us with his Marking Monuments contribution is reconciliation, one piece of tainted land at a time.
      Creating an animated Gamble Plantation Historic State Park, John deconstructs the painful salute to the racist and brutal past of the Confederacy.
      The full name of the plantation park is the Judah P. Benjamin Confederate Memorial at Gamble Plantation Historic State Park in Manatee County, Fla.
     Judah P. Benjamin was a man of the Jewish faith. He never lived at Gamble Plantation. A former Louisiana legislator and officer of the Cabinet of Jefferson Davis, Benjamin's only connection to the slaveholding sugar mill in Ellenton, Fla. was his hiding there in May 1865 before escaping capture by Union soldiers and fleeing to England.  
     Twenty-three years John Sims gave of his life making art to help us all lay down hate and the symbols, politics, and offenses that sustain it. 
     Florida, Detroit-born John's adopted home state and home to Gamble Mansion, honors the Confederacy in its people's flag. And three state holidays celebrate the confederate legacy: January 19 - the birthday of Robert E. Lee, June 3 - the birthday of Confederacy president Jefferson Davis, and the Confederate Memorial Day on April 26. 
     John reminded us in forceful and exacting ways that the hurts of the Confederate South in Florida still rise when compassion and acceptance are dismissed or legislated away. But the sum of possibilities is infinite. All we need to do is change the equation.
     In John's reimagined Gamble Plantation grounds, formally enslaved souls are humanized by naming, and he dedicates the land in their honor. John's red, black, and green flag is raised, reaffirming the personhood of those once reduced to property.
Why isn't something close to John's vision possible?
     In late April of 2009, John forwarded me a draft of an editorial he'd written to review. Ironically, he advocated the free speech rights of a Confederate Flag waver in Sarasota. The caveat was that John advocated for his right to protest the slavery-affirming icon that caused him unshakable angst.
John wrote in his draft:
When I first came to Sarasota over ten years ago, I was stunned at the frequent citing of the Confederate Flag. This made me nervous. Even after hearing the Southern Heritage arguments about state rights, I was still nervous. It is undeniable that the the confederate flag has been contaminated by the KKK and the segregation movement. I responded by recoloring the flag black red and green (the colors of Black nationalism) and later developed the installation, The Proper Way to Hang a Confederate Flag- the Flag hanging from 13 foot gallows, which was shown in abbreviated form in Gettysburg. This resulted in a national outcry from the Sons of Confederate Veterans. This was cute until I started getting death threats. It became very clear to me that this flag is quite dangerous, precisely because it is so difficult to talk about.
The revised version was published on May 6. The next day, John received an email that read in part:
"There will be no dialog with black folk. We whites will not capitulate or give up our heritage."
I was unnerved because I knew John had several dangerous encounters over his flag work. I was unnerved when Twinkle sang 'Dixie' at John's memorial. 
     John Sims never demanded capitulation. But he did all he could to use his craft to exploit the enduring hurtful persistence of a nation that refuses to make peace with all of its people wholly.
     As we continue to herald the legacy of John Sims and romanticize his art and purpose in retrospect, I'm sure he'd want us to remember the practical work he prescribed for us all to eradicate systemic and political hate and permit ourselves to heal by loving.
     Y'all keep me posted about your progress on that practical work you'll do. Let us capitalize on the connective culture of collaboration that John nurtured by bringing us together through his John Sims Projects.
Postscript: I'd written this piece before making the following discovery. Bob Holman gave me a copy of his 'praise poem' he'd written for John and read at the Ringling program. I'd misplaced it. I found it today, February 16, and read through it. I wrote this piece on February 14. Here's the back page of Bob's poem. Unnerved again when I saw that Bob included the image of John's 'Marking Monuments' Gamble Plantation redress on the back page.